Portfolio | Alexander Girard in Columbus
You know about Alexander Girard's interiors for the Miller House, which I shared in this post. But did you also know he designed office interiors for two of J. Irwin Miller's businesses, Irwin Management and Cummins Inc., as well as accessories for Eero Saarinen's North Christian Church? He did, fitting his flamboyant modernist decoration inside a pair of Victorian storefronts on Columbus, Indiana's main street. In the essay on Girard I will be writing for the Vitra Design Museum I will analyze these projects in more depth, but in the meantime I wanted to share a few of the striking details of these projects that remain intact. The offices were designed and constructed between 1960 and 1972, so you have to imagine these discussed in the context of corporate modern interiors at the Seagram Building, CBS and the Ford Foundation. Those of you who know Girard's textile designs will recognize the checkerboard floor as closely related to his Checker upholstery fabric, reissued by Maharam, and the striped rug as part of the family of his tonal Mexicottons.
The Brooklyn Bridge Deserves a Scenic View District of Its Own
My first sighting of a selfie stick in the wild was on the Brooklyn Bridge. Three European tourists gathered themselves together, with one tourist acting as a pivot point, angling the rod so that their three heads would be framed by one of the bridge's distinctive pointed stone arches. In most ways, the Brooklyn Bridge is the best New York City icon on which to selfie with a stick. The Statue of Liberty is usually too far away; the spire of the Empire State Building, from the observation deck, too near. Central Park is very nice but, ultimately, grass is grass. The bridge has natural lighting, built-in framing, and instant recognition. Being yelled at by a biker as you infringe on her lane for a photo could be seen as a New York hazing ritual.
The Brooklyn Bridge belongs to all of us, as an icon, as infrastructure, as a backdrop for snapshots and proposals and commutes. Which is why it needs protection. Not from being torn down or allowed to rot, like less photogenic and accessible contemporaries, but protection from love—the obsessive kind of love that wants to glom on to its glamor and give little in return. Right now, a series of buildings and proposals are chipping away at the experience of the bridge, blocking sidelong glances down the Brooklyn Heights Promenade, and scrubbing from view the masts and cable stays that suggests an earlier New York. It's time for the bridge to get a Special Scenic View district of its own, a two-way district that preserves sight lines both to and from its mighty span.
"Can Heatherwick produce architecture that is more than a gimmick or a gadget?"
Let Thomas Heatherwick tell you a bedtime story. "Can a bus be better and use 40 percent less fuel?" "Can you make a park out of the desert?" "Can a building express on the outside what goes on inside?" If you are Heatherwick, the multi-disciplinary, 40-something, British designer who is co-creating Google's new headquarters with that other multi-disciplinary 40-something, Danish architect Bjarke Ingels, the answer to all of these questions is YES. And why not? When you are writing the questions and the answers, it's easy to succeed every time.
In the exhibition Provocations – which just opened at New York's Cooper Hewitt, National Design Museum, after stops in Dallas and Los Angeles – and his revised and expanded monograph Making, Heatherwick posits the design process as a fairytale, in which no matter how many twists and turns the path takes (he would use the tech jargon "iterate") you know it will come out happily ever after in the end.
Portfolio | Miller House
For more information on this, one of the loveliest and most colorful modern American homes, I'm going to link to the Design Observer post I wrote on the occasion of the opening of the J. Irwin and Xenia Miller House to the public in 2011.
For many American architects, their first commission is a house. Even if they go on to fame and fortune and skyscrapers, what people think of first, when they hear the name, is that house. Eero Saarinen grew up in two houses designed by his father Eliel, first Hvittrask (1901-03) in Finland, then the Saarinen House (1928-30) at Cranbrook. The Saarinen House became, like the Cranbrook and Kingswood school buildings, a family project. Mother Loja Saarinen created fabrics and rugs and collaborated on the garden. Eero designed furniture for his parents' bedroom. Sister Pipsan designed motifs for the family's bedroom doors. Eero himself has never been identified with a house. But that might be about to change.
On May 10, the J. Irwin and Xenia Miller House in Columbus, IN opens to the public for the first time since it was completed in 1958 (Video here). Designed by Saarinen and Kevin Roche, with interiors by Alexander Girard and gardens by Daniel Urban Kiley, the Miller House has been largely out of sight to the design world since its single publication in House & Garden in 1959. Xenia Miller lived there until her death in 2008, so what will be on display is the house as lived in and impeccably maintained by the Millers and their caretakers, a father and his son. Curators at the Indianapolis Museum of Art have cleaned, repaired and replaced, but dedicated themselves to working with what the Millers had left there, rather than trying to return it to 1958. Adding the Miller House to the list of iconic American modern houses suggests some new ideas about Saarinen and his collaborators, but also about for whom modern houses are designed. That Saarinen's first homes were family affairs turns out not to be just a footnote.
More here.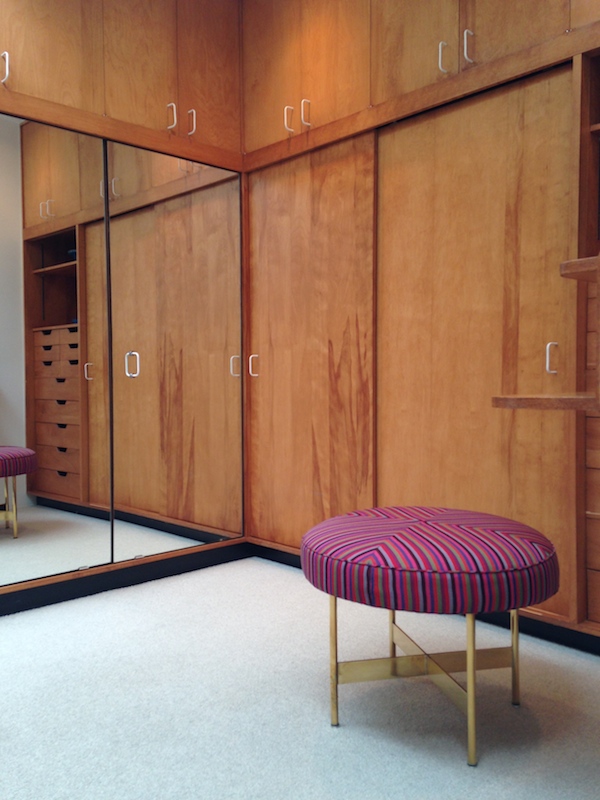 Book: 30 Years of Emerging Voices
Princeton Architectural Press has just published 30 Years of Emerging Voices a beefy, thoroughly illustrated compilation of the work of three decades of winners of the Architectural League of New York's early- to mid-career award. Karrie Jacobs wrote a nice assessment of what can be gleaned from the volume in Architect:
Revisiting three decades of winners as a continuum is revealing about what architecture truly is: not the province of a few celebrated practitioners, but an ongoing process of invention and reinvention by a multitude of talented and thoughtful firms.
I was pleased to be asked to contribute a text to the book about the winners of the mid-2000s. I took as my theme the rise of partnership. I've posted it in full below.
The biggest architecture story of 2013 was an insult from 1991. When Robert Venturi won the Pritzker Prize that year the jury citation mentioned his partner and wife Denise Scott Brown in the fifth paragraph. Asked about the Pritzker by the Architects' Journal in March 2013, Scott Brown said, "They owe me not a Pritzker Prize but a Pritzker inclusion ceremony. Let's salute the notion of joint creativity." It is important for Scott Brown to be recognized because she deserves it. But the second part of her quote is more meaningful for the future of the field.
More than making a place for women, Scott Brown's emphasis on "joint creativity" means making a place for partners. Looking at the Emerging Voices across the decades reveals a program that has changed in order to reflect new definitions of both "architecture" and "practice." These new definitions make the Pritzker, still fighting the idea of admitting a wrong, seem fundamentally out-of-date, despite the fact that it has honored two partnerships (Herzog & de Meuron in 2001 and SANAA in 2010). Even the AIA has (belatedly) recognized the importance of partnerships, voting in new rules for the Gold Medal that allow it to be awarded to pairs as of 2014.
Starting in the late 1990s, the ratio of individuals to partnerships in the Emerging Voices program slowly began to change. The period from 2004 to 2008 is, if not a watershed, clear evidence of that shift. In 2004, John Friedman and Alice Kimm were the only partners honored. A year later, more than half the winners were firms with two or more principals. In 2006, half of the winners were partnerships. By 2007, partnerships, including brothers Peter Anderson and Mark Anderson, outnumbered individuals. And in 2008, nearly all the selected firms were led by multiple voices, including the five-person partnership of El Dorado, the four-person Onion Flats (three brothers among them), and siblings Granger Moorhead and Robert Moorhead.
The rise of partnerships is an acknowledgment that one person isn't doing it all. One person can't do it all. Togetherness may be the only way to have it all. Partners have different but equal talents. Partners cover for each other during life events (births, deaths, illnesses). Partners write and partners design. Partners set up the plumbing inspection and partners manipulate the 3D model. And sometimes partners stay home two days a week to take care of the kids.
The future of a sustainable, inclusive, and creative architectural profession also requires expanding the definition of "architecture practice." Freecell (EV05), Lead Pencil Studio (EV06), and Höweler + Yoon Architecture/MY Studio (EV07) sustain themselves through both conventional and alternative projects, including installations. The "and" in many-handed firms means different skills, not all learned in architecture school: design and construction for Bercy Chen Studio (EV06) and design and development for then-partnership Della Valle Bernheimer (EV07).
The makeup of Emerging Voices in the mid-aughts reflects reality. My own jury experience, in 2011, involved no predetermined agenda to select firms helmed by multiple principals, yet there were no sole practitioners among the winners. I sifted through the portfolios, waiting to be drawn into the work. I never counted the names on the title page.
It is as important to recognize Denise Scott Brown's role in what remains Robert Venturi's Pritzker as it is to acknowledge that a single person is no longer expected to have all the talent or shoulder all the responsibility. To succeed, one shouldn't have to do everything. Putting two, or three, or four, or five names on the door makes a tremendous difference, and diminishes no one.
Spotting Real-World Architecture in Monument Valley
Minimalism in architecture means smooth surfaces, a limited color and materials palette, a refusal to clutter or adorn. Minimalism builds the should-nots into its structure—if you need to #Konmari afterward, you're not listening—setting out a lifestyle that may be difficult but should reward you with a living space of monochrome dishware, right-angled benches, and columns of natural light. It may result in a building that looks of another world, absent the irrationality (and dirt) of what we commonly refer to as real life.
Minimalism in game-making shares many of the same qualities, at least according to Neil McFarland, Director of Games at UsTwo, makers of Monument Valley, the addictive spatial puzzle-solving app that's clocked four million downloads and counting. "There is very little in the levels that is superfluous. There are no achievements in the game, no unlockables, no secrets. We really wanted it to be just about the experience of traveling through those monuments and nothing else."